Industrial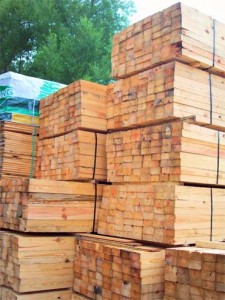 Industrial Grade Lumber
This is where it all began… 1945 Mr. Swanson, the original owner of Frontier Lumber, opened the doors with the intention of offering lumber to Erie's largest manufactures. Still today we offer the lumber grades Industrial and Commercial manufactures are looking for along with services they can appreciate. We provide quick turn around on orders, reliable delivery, and custom box and skid design; designed around your unique part either here at our facility or we'll come to you. In over 70 years, we have branched off in several directions and are still growing strong. Our main driving focus is service to you the customer, with the quality materials you need to ship your valuable merchandise.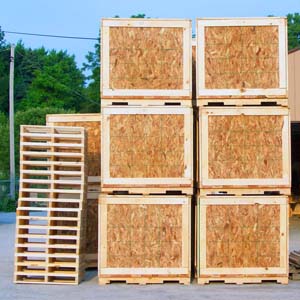 Box Shop
Frontier Lumber also has an extensive crate, box, skid, pallet shop with many years of experience in designing and producing specialized packaging requirements. We can build according to your specs or design it for you at no additional charge. All built and stamped meeting export ISPM15 specs to any country. We are able to handle it all, from very small to large designs (we've done 25 ton machinery), single unit purchases to truckloads. We can manufacture special dunnage to secure your products throughout the shipment. We can also design for long term storage outside in the elements for those projects going overseas. You can have the confidence that it will be done right and on time!
Problem Solving
Building boxes, skids, crates, and pallets is our core competency and we've been doing it since the 1960's. Let us do this for you and allow your employees to do their core competency, which is producing your products, all at a savings of costs and aggravation for you. We can eliminate the dangers of air nailers, hoses, cut off saws, table saws, etc. We can eliminate injury to employees and dealing with workmen's comp claims, saving you money by keeping your valuable employees healthy and reducing workmen's Compensation rates. We also have an outside sales person, Brian Calvelage, with over 25 years of experience in the lumber, packaging, & crating industry. Allow him to work for you by reviewing your current processes to search for costs, material, and safety savings, all at no charge or obligation.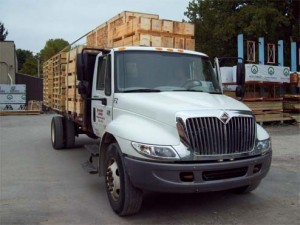 Delivery
Frontier Lumber has its own delivery trucks and drivers. We do NOT sub out this valuable and critical resource when dealing with expensive customer products. Our drivers are accommodating, professional, and polite on every delivery. It's a service that puts the customers' needs first.